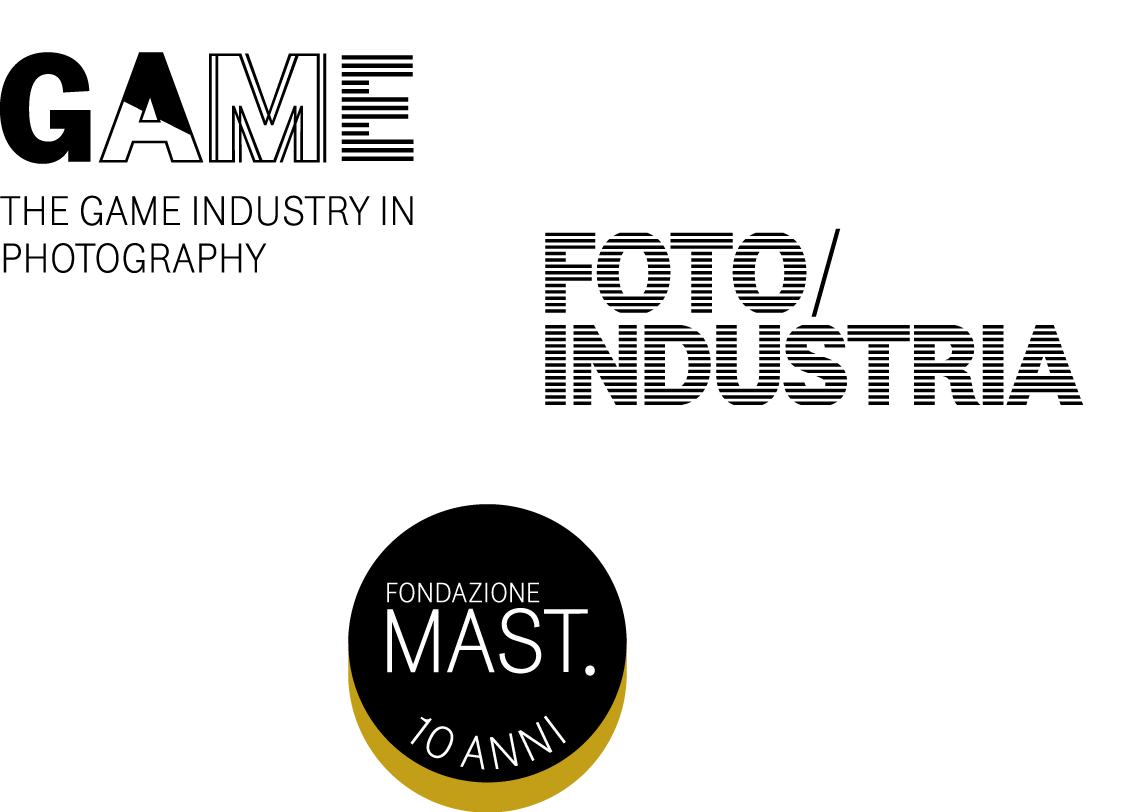 VI BIENNIAL OF PHOTOGRAPHY
ON INDUSTRY AND WORK

12 EXHIBITIONS / 11 PLACES
THE PHOTOGRAPHERS OF FOTO/INDUSTRIA 2023
GAME
FOTO / INDUSTRIA 2023
With GAME, the 2023 biennale of Foto/Industria is dedicated to the theme of the 'game'.
Photography that documents industry and work, the basis of each edition of Foto/Industria, this year explores the production of objects and devices that fall within a vast and solid sector that has been able to reinvent itself over time to meet changes in taste and habits, and is always extremely receptive to technological innovation. From children's games to amusement parks, from role-playing games to video games, the games sector has grown to unprecedented proportions, incorporating themes that are extraordinarily relevant and topical.
The twelve Foto/Industria exhibitions – eleven solo exhibits and one group show offering the perspectives and research of international artists – are also opportunities to examine more closely some specific aspects of the relationship between games and industry, investigating the implications and repercussions in the fields of psychology, architecture, economics, history, ecology, politics, and even the deepest drives of the human soul.
The 'game' is the central theme of an itinerary that guides visitors on an exploration of the many facets of an activity that every man and woman, at any age and in any place, has taken part in. The exhibition takes visitors through the labyrinth of an authentic wonderland that is more than something to merely look at, but inevitably involves all of us.
FONDAZIONE
MAST
An international non-profit organization associated with the Coesia industrial group and conceived as a bridge between the company and the community, the Fondazione MAST was set up in 2013 with the aim of sharing its cultural mission with the city. A multifunctional laboratory in which to experiment with new models of company welfare, MAST is a place for sharing and collaborating that hosts various activities open to the city. The PhotoGallery, with a programme of temporary exhibitions dedicated to industrial and work photography, curated by Urs Stahel, is the only institution in the world devoted to images focused on work.
SUBSCRIBE TO THE NEWSLETTER
Subscribe to the newsletter to stay updated on the activities of the Fondazione MAST/FOTOINDUSTRIA 2023
DISCOVER THE LOCATIONS OF THE EXHIBITIONS
FOTO/INDUSTRIA involves with its exhibition program the city's historical landmarks, palaces and residences of great artistic significance.