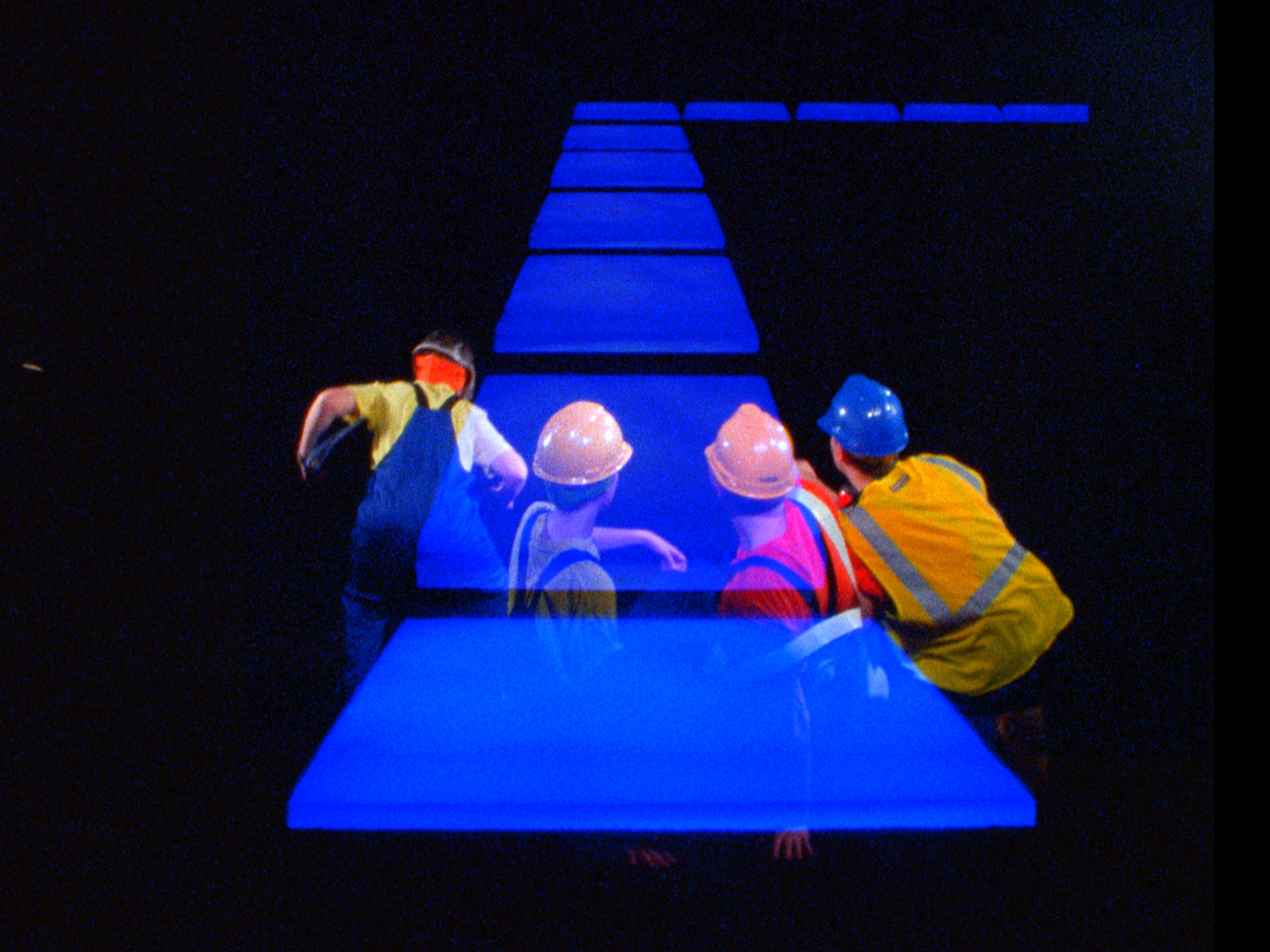 Taps, Industrial Series
1986
© Ericka Beckman
Courtesy of the artist and Galerie Francesca Pia
ERICKA BECKMAN
Reach Capacity
Ericka Beckman combines in her work the grammar and foundational structures of the game and the fairy tale with themes such as politics, society and economics. The video installation Reach Capacity is the result of this mix, in which the predatory system of the real estate market takes on the guise of a game, in the wake of the most famous board game dedicated to a subject generally excluded from the sphere of play and recreation: Monopoly. Here Beckman converts Lower Manhattan into a gigantic board on which a series of pawns-players move, taking the parts of businessmen, speculators and workers in a frenetic performance that recalls the aesthetics and plot of a musical.
Location
Spazio Carbonesi
Via de' Carbonesi, 11
OPENING HOURS
TUESDAY–SUNDAY, 10AM–7PM
BIOGRAPHY
Ericka Beckman (Hempsted, New York, USA, 1951) has made acclaimed works across Super-8mm, 16mm and expanded cinema formats since the 1980's. Engaging live-action choreographed sequences, as well as handcrafted layered animation and fast paced soundtracks, Beckman transforms the cultural norms communicated through fairytales and games. Her films, photographs and drawings have been a longstanding exploration of "the performance of the image" and the artist's notion that our memory of it influences both our behavior and perception of reality. Beckman's work was dedicated a solo show at the Francesca Pia Gallery in Zurich in 2023. She is currently participating in the exhibitions 'The World Classroom' in Tokyo, 'The World Building' in Dusseldorf, and 'Making Worlds' in Taiwan. Her latest work STALK premiered at the 2021 Performa Biennial New York. Beckman premiered 'Reach Capacity' in Belgium and Germany.
Taps, Industrial Series
1986
© Ericka Beckman
Courtesy of the artist and Galerie Francesca Pia
Spazio Carbonesi
Via de' Carbonesi, 11
OPENING HOURS
TUESDAY–SUNDAY, 10AM–7PM
This space is located inside Palazzo Zambeccari, a three-story building with a Neoclassical terracotta facade that was built in 1775 by the architect Carlo Bianconi. The piano nobile or main floor has maintained its Baroque frescoes, including an Olympus by Giuseppe Rolli and Giacomo Alboresi. Spazio Carbonesi is a space for meeting and sharing ideas made available to cultural organizations, an ideal setting for experimentation, exploration, and innovation that is used for arts-based initiatives, courses, or lectures.