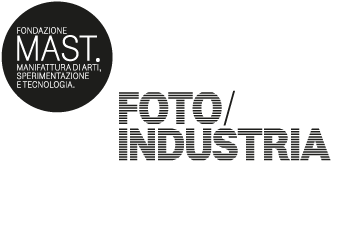 IV BIENNIAL OF PHOTOGRAPHY ON
INDUSTRY AND WORK
Bologna 24.10 – 24.11.2019
11 EXHIBITIONS / 11 VENUES
TECHNOSPHERE: HUMANKIND AND THE BUILT ENVIRONMENT
FOTO / INDUSTRIA 2019
The world's only Biennial devoted to photography relating to industry and work presents 11 exhibitions: 10 exhibitions in venues around the city centre and Anthropocene at MAST. The central theme of Foto/Industria 2019 is the built environment: a crucial element intimately rooted in the nature of the human species, explored here from every angle, from its historic and philosophical roots to its inevitable scientific implications. It is this activity which has given rise to the technosphere: the whole set of structures that humans have built to ensure their survival on the planet. Weighing an estimated trillion tons, this artificial layer over the earth's crust was defined as the Technosphere by Peter Haff. The MAST Foundation has entrusted the artistic direction to Francesco Zanot to carry on with the project of the Biennial that François Hébel started in 2013.
The MAST Foundation once again aims to involve the city and the community in this cultural project which relies on the narrative force of images to multiply our gazes on the world.
ENTRY TO THE EXHIBITIONS
The Foto/Industria badge grants free entry to the 11 exhibition venues and, subject to booking to, the programme of events at MAST during the Biennial.
Badge holders are also entitled to special prices at Gourmet Partner restaurants and subscription to the MAST Foundation newsletter, so as to keep abreast of all the activities. The badge can be obtained free of charge by filling in the form.
EXHIBITIONS HOURS:
TUESDAY – SUNDAY, 10-19*
* MAMbo will close at 06:30 pm
THE FOUNDATION
MAST
An international non-profit organization associated with the Coesia industrial group and conceived as a bridge between the company and the community, the MAST Foundation was set up in 2013 with the aim of sharing its cultural mission with the city. A multifunctional laboratory in which to experiment with new models of company welfare, MAST, a place for sharing and collaborating that hosts various activities open to the city. The PhotoGallery, with a programme of temporary exhibitions dedicated to industrial and work photography, curated by Urs Stahel, is the only institution in the world devoted to images focused on work.
I FOTOGRAFI DI FOTO/INDUSTRIA 2017
DISCOVER THE LOCATIONS OF THE EXHIBITIONS
FOTO/INDUSTRIA involves with its exhibition program the city's historical landmarks, palaces and residences of great artistic significance.
All the locations